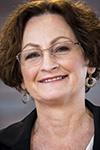 CEO, Glenys Oogjes
Glenys is one of Australia's most experienced animal advocates. From rural beginnings on a Victorian dairy farm to heading up Australia's most effective animal advocacy group, her interest in animal welfare and work in the field has spanned three decades.
After obtaining a degree in Behavioural Science, Glenys turned her attention to animal protection and has spent much of her career getting animal welfare on government and community agendas. She has contributed to numerous national reviews of Codes of Practice and animal welfare laws in each State and Territory.
Glenys has also worked to achieve greater protection for animals through representation on various Government and industry standards committees including the National Consultative Committee on Animal Welfare (advising the Federal and State Agriculture Ministers), the Victorian Animal Welfare Advisory Committee, and Institutional Animal Ethics committees. Glenys was also one of the instigators of the Australian Animal Welfare Strategy and assisted to oversee its initial implementation phase (2006 - 2012).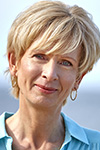 Director of Strategy, Lyn White AM
After 20 years in the South Australian police force, Lyn was shocked to learn that the system of justice she had been proud to uphold as a police officer was not extended to the most vulnerable members in our society. Discovering that most animals born into human care — those raised and killed for food — were denied key legal protections from acts of cruelty changed the trajectory of her life and career.
Lyn's policing background put her in good stead for the animal cruelty investigations she was about to become renowned for. Investigations which, since she joined Animals Australia in 2003, have led to unprecedented improvements for animals in a number of countries, including Australia.
As Animals Australia's Campaign Director, Lyn not only conducted ground-breaking investigations but drove major strategic public awareness campaigns, shining a spotlight on once hidden areas of animal abuse in our society and inspiring individuals to live compassionate lives.
Fuelled by a desire to create a kinder world, Lyn's investigations in a dozen different countries have taken her to places few would want to visit. She retains an absolute belief in the human spirit and her work presents an inspiring example of how one individual with passion, courage and conviction can make a profound difference.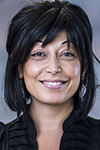 Legal Counsel, Shatha Hamade
Like many caring Australians, becoming informed was life-changing for Shatha. She was working for a major financial institution after completing her Economics degree and Masters from the University of Sydney. It was upon learning about the hidden abuse and 'legalised' cruelty suffered by animals in factory farming and other industries that profit from their use that Shatha embarked on a law degree to become a legal advocate for animals.

After law school, Shatha worked for two prominent commercial law firms in Melbourne, and then went on to become a Judge's Associate to the most senior Judge of the Federal Court of Australia, all the while volunteering for animal charities and advocates to assist with their legal affairs. Before coming to Animals Australia, Shatha was a former National Coordinator of the Barristers Animal Welfare Panel, and the Legal Counsel for RSPCA SA, where she ran animal cruelty prosecutions and trials. Shatha's outstanding work as a lawyer has been recognised by the Law Council of Australia by being awarded the Australian Young Lawyer of the Year.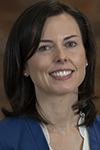 Campaign Director, Lisa Chalk
A journalist by trade, Lisa's early career in regional television enabled her to combine her loves of travelling, meeting people and writing. A desire to make a greater contribution led her to the world of Federal politics where as a media adviser to a Cabinet Minister over two elections she gained a valuable insight into the political system and the gentle art of lobbying and political persuasion. Animal welfare was never far from Lisa's mind and it was an Animals Australia live export investigation broadcast on 60 Minutes in 2006 that started her on the road to a career in animal advocacy. After four years with RSPCA Australia as their Communications Manager and after working closely with Animals Australia on the 2011 Indonesia live export campaign, Lisa's career has come full circle. She was delighted to accept a position with the Animals Australia team where she can focus on campaigning and her great passion of improving the lives of farm animals.
Director of Development, Louise Bonomi
Louise left a media production career at the ABC to combine her passion for animals and communications at Animals Australia. As Director of Development, she leads a small and very passionate team whose emphasis on supporter and donor interaction and satisfaction makes for a very enriching working environment. In this role she has been developing and diversifying the organisation's fundraising activity and membership growth to ensure that Animals Australia can continue to grow and expand our live saving work for animals well into the future. At home, Louise is a volunteer wildlife carer, and spends most of her time rescuing and caring for native animals in need, as well as her three rescued cats and six rescued battery hens.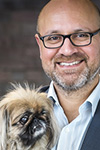 Director of Corporate Affairs, Tim Vasudeva
Tim spent 20 years working in commodities markets, including 10 years with Commonwealth Bank and Macquarie Bank, before several years of volunteering at South Korean animal shelters during his time with Macquarie brought the plight of at-risk animals into sharp focus. Upon his return to Australia, Tim spent two and a half years volunteering full-time with PetRescue and the Sydney Dogs and Cats Home, before he was appointed CEO of Animal Welfare League NSW in 2011 and subsequently CEO of RSPCA South Australia from 2013 to 2017. Tim recently joined the Animals Australia team in the newly created role of Director of Corporate Affairs, focusing on developing close relationships with corporates, financial institutions and agricultural participants with a view to cooperatively pursuing progressive changes in animal welfare.