LAST UPDATED: 22 January 2018
As far back as 1985, only a few years after the live export industry began shipping Australian animals overseas to be slaughtered, the Senate Select Committee on Animal Welfare tabled the report, 'Export of Live Sheep from Australia', and concluded:
The trade is, in many respects, inimical to good animal welfare, and it is not in the interests of the animal to be transported to the Middle East for Slaughter... The implementation of reforms will help to reduce but not eliminate stress, suffering and risk during transportation of sheep to the Middle East.The Senate Select Committee on Animal Welfare, 1985
Since then, multiple independent reviews have highlighted the high-risk nature of this cruel trade – such as the Keniry Review of 2003 and the Farmer Review of 2011.
Live exporters have knowingly sent millions of Australian animals to excruciating, fully conscious slaughter overseas.
And it's not only sanctioned cruelty that these animals suffer – they are also at the mercy of a volatile and dangerous trade. Starvation and heat stress while on board ships, trade disputes leaving suffering animals stranded, laws flouted, and animals abandoned to extreme slaughter abuse: the history of live export from Australia is truly shameful.
Conditions on board live export ships are inherently stressful for the animals. Sometimes these vessels are converted from car carriers or ferries, with minimal ventilation or space. Constant rolling motion, extremes of temperature, the risk of mechanical breakdown, injuries from hard concrete and metal decks, and journeys that often last weeks at sea all increase the risks for animals and contribute to unnecessary suffering.
If animals transported within Australia died in the numbers that they do on live export ships, cruelty charges could be laid. But the industry simply accepts these deaths as part of its business model.
IMAGE: Dr Lynn Simpson
The build-up of wet faeces on live export ships can lead to cattle becoming coated in excrement. Apart from being distressing and unhygienic, faecal coated cattle cannot dispel heat through their body surface and are at greater risk of heat stress.
Sometimes this already nightmarish situation erupts into all-out disaster. These are just a few tragic examples of the mass suffering that has become synonymous with live export:
Mass death incidents
In 2003, nearly 6000 Australian sheep perished in appalling conditions on board a ship called the Cormo Express, as it trawled aimlessly in the Middle East for two months, unable to find a port that would accept them.
Trade only resumed to the Middle East following the Cormo Express disaster because Memorandums of Understanding were put in place to supposedly ensure such a tragedy never happened again. Yet in 2012, 22,000 Australian sheep were clubbed, stabbed and buried alive in a brutal mass cull in Pakistan. The animals had been unloaded in the country under false pretenses after the ship they were on was rejected by Bahrain for disease fears.  
Scorching heat during Middle East summers can turn live export ships into huge floating ovens. On a horror voyage onboard a vessel called the Bader III in 2013, more than 4,000 Australian sheep suffered and died from heat stress, the animals literally cooking from the inside out.
In 2016, over 1,700 heat-stressed Australian sheep perished on board the Al Messilah. Another 1,286 animals remained unaccounted for, with the live export company's report to authorities describing how it lost count of the number of dead and dying sheep as the ship arrived in Doha.
In 2018, 2,400 sheep perished on board the Awassi Express while en route to Qatar, Kuwait and the UAE. Distressing footage taken by a brave crew member during the voyage revealed animals caked in their own faeces and struggling to breath as they literally cooked alive from the inside out.
See a former live export vet's account of what it's really like for the animals.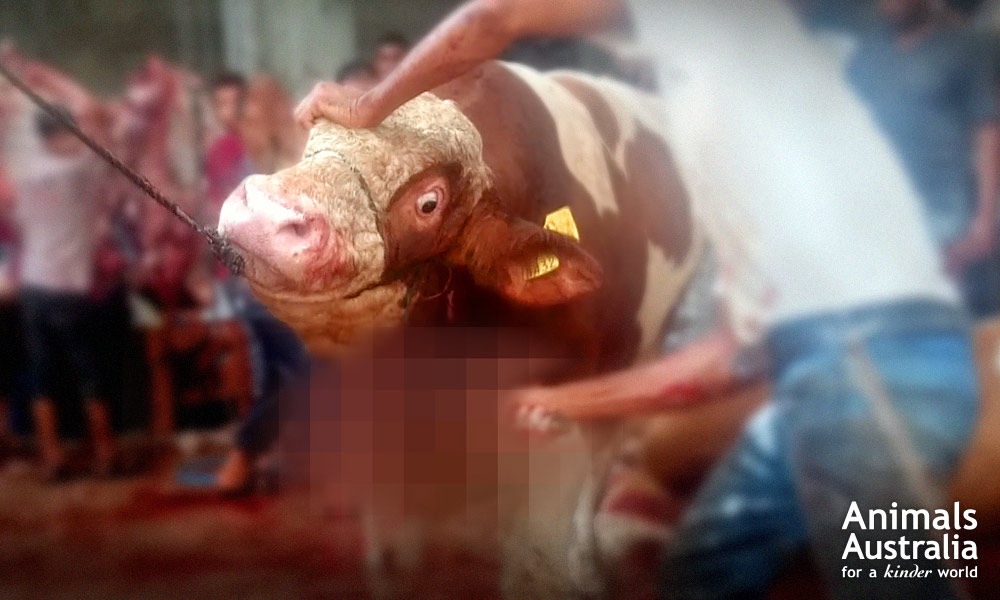 Tragically, the only thing worse than these journeys for animals is what will happen to them at their destination.
Our investigators have witnessed disoriented, terrified animals having their eyes stabbed and tendons slashed prior to slaughter. Such horrific scenes are common 'disabling' techniques in places where slaughter workers struggle with large, frightened animals. Live export companies send them anyway.
Discover our shocking live export cruelty investigations.
A charity forced to police the trade
With the Australian Government largely relying on live exporters to self-report breaches of regulations, Animals Australia has continued to be the watchdog of this industry. Our legal team has lodged dozens of formal legal complaints with evidence of ongoing regulatory breaches resulting in terrible cruelty in multiple countries. Government investigations have sometimes taken months or years to come to a conclusion, with grossly inadequate consequences for those responsible: no live export company has ever had its licence cancelled, or even suspended — for repeatedly breaking live export laws.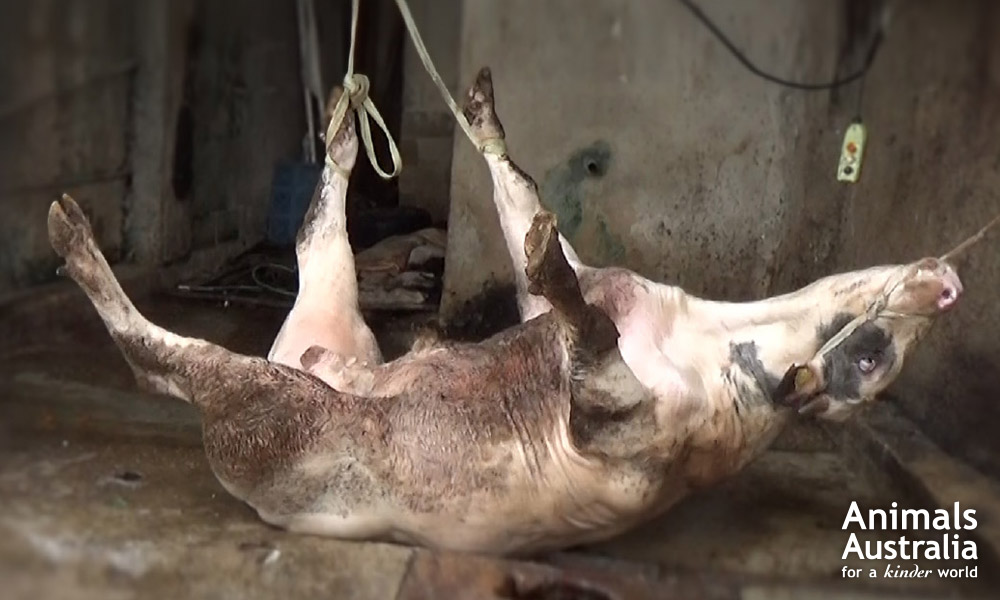 Animals are transported live because their bodies are seen by the global meat industry as a way to transport 'fresh meat'. These animals are treated like 'cargo', not the living, breathing beings that they are. Live export cruelty is a global problem, so our work for animals has extended through our global arm, Animals International.
How you can help
Speak out for animals
Join more than 200,000 caring people around the world by signing the global petition against live export cruelty.
Political pressure
Make sure your local MP knows where you stand on this issue – and that you expect them to speak out on your behalf for animals.
Support our work for animals
All of Animals Australia's critical investigations and campaigns are funded entirely by people in the community who share our vision for a kinder world. Please consider donating today.
Eat kindly
By pushing animals into more countries the live export industry aims to encourage people to eat more meat. And at a time when leading health and environmental experts are urging us to reduce meat consumption. Live export is not only cruel but it's globally irresponsible. 1 in 3 Australians are already enjoying more plant-based meals – it's simple and delicious to join them with our free veg starter guide, packed full of tips and recipes.