LAST UPDATED: 21 April 2020
There's a lot to be said about cooking a meal in a single pot. It's (often) quicker. You don't have to worry about coordinating multiple pans at once. And the best part? There are fewer dishes to clean up afterwards.
There are some amazing plant-based one-pot recipes around that are packed with flavour, the goodness of plants, and they look great, too (if you're into those kinds of things). From comfort meals like loaded mac n cheese to quick and easy soups, check out some of our favourite one-pot wonders right here.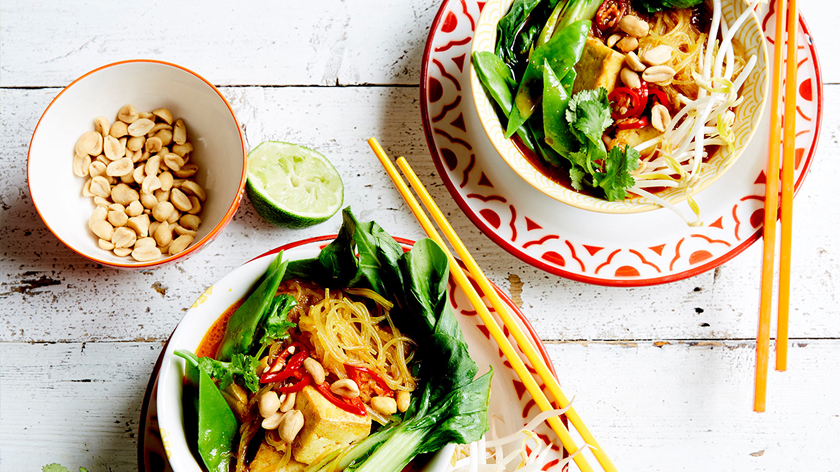 Laksa is one of our favourite meals at all times, but especially when we're a little sniffly or have a sore throat. The chilli and lime do wonders together. And this is one of the simplest but also tastiest recipes we've tried. Get the recipe at VegKit.com.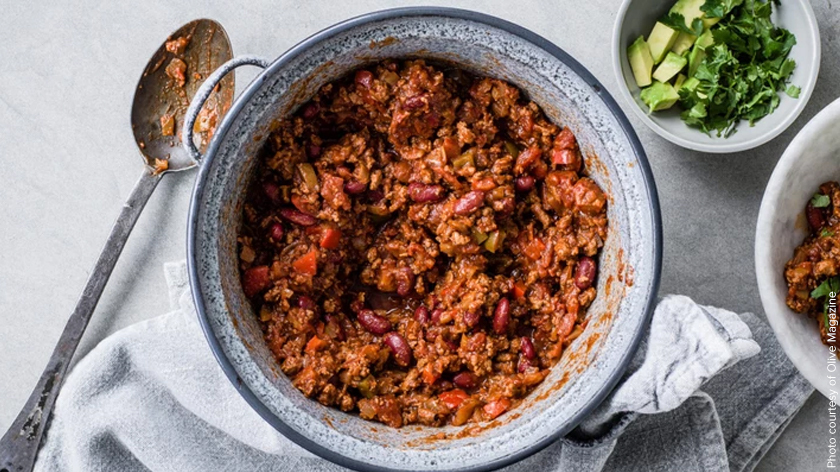 Let's be honest, everywhere has their own rules about what is and isn't allowed in a bowl of chilli. The good news is that we don't discriminate. We've seen some weird and wonderful recipes around (here's an amazing one from Brand New Vegan that includes refried beans), but we like getting back to basics with this one from Olive Magazine.
Think you have a better plant-based chilli recipe? We want to hear about it. Email [email protected] and show us what you've got!
Minimalist Baker has so many great recipes. There was no way we were going to be able to create a list without including something from them. And this mushroom and leek risotto is just perfect. We like using nutritional yeast instead of the vegan parmesan. Plus after we've opened a bottle of white wine to add the 1/4 cup we don't exactly struggle to find a use for the rest of the bottle. Check out Minimalist Baker's recipe here.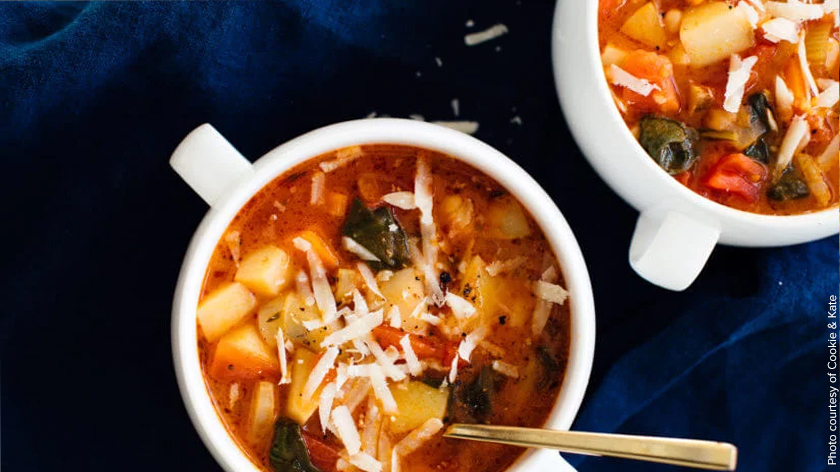 Growing up, we loved eating soup. Of course, our favourite was minestrone with such beautiful flavours and full bites of delicious vegetables. It's pretty flexible so substitutions are very welcome. We're on the side of cooking the pasta in the soup rather than separately. We think it slightly thickens the soup, adds flavour to the pasta, and most importantly means one fewer dish to clean afterwards! Cookie & Kate's Minestrone recipe is our current favourite.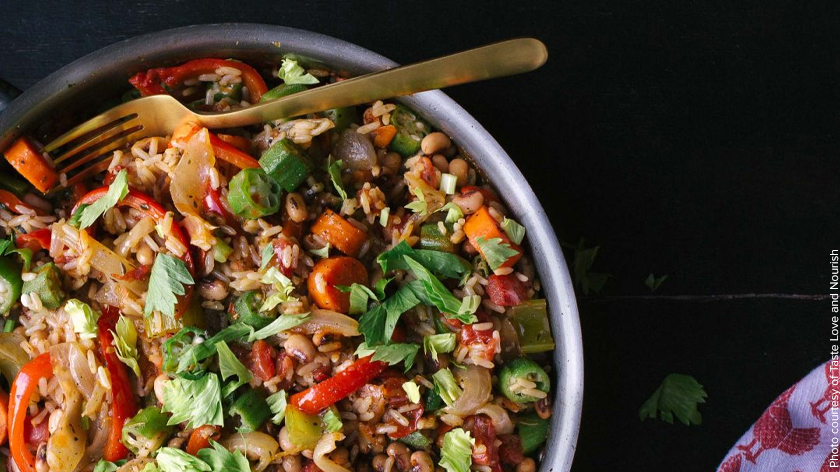 We're a recent convert to jambalaya, and Taste Love and Nourish has one of our favourites. Not growing up with okra or black-eyed peas means that they've been a new and very welcome addition to our tastebuds. In this recipe, adding hot sauce at the end means that everyone can add as much (or as little) spiciness as they want. We love using Louisiana Hot Sauce, but use whatever your favourite is. Taste Love and Nourish has an amazing jambalaya recipe.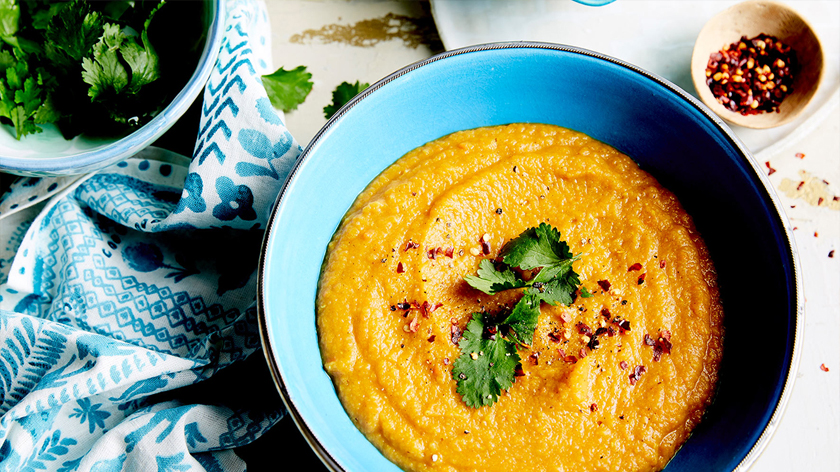 There is nothing we don't like about this soup on VegKit.com. Without wanting to start any fights, there is no question that red lentils are the best lentils (sorry to all of you other lentils out there). The spices are perfect, and once everything is in the bowl there's really not much else to do. Definitely eat it up with some sort of bread — pita, sourdough, toasted white bread that's been sitting in your freezer for a month... Yum!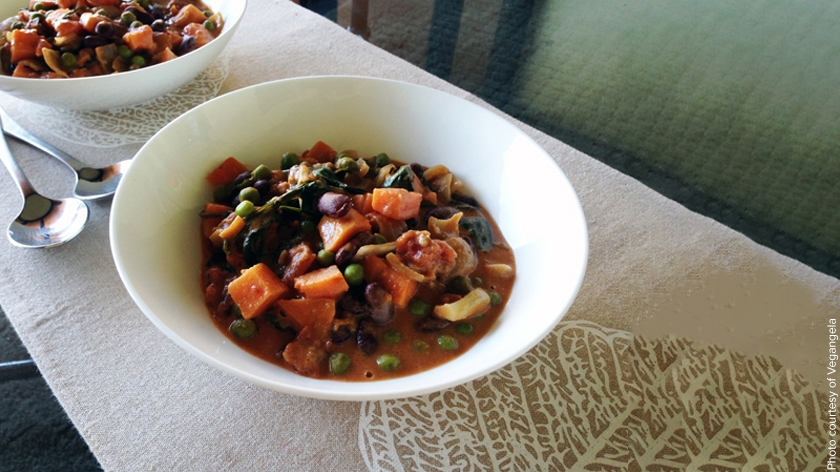 If you haven't put peanut butter in a stew like this, then stop what you're doing and make this recipe from Vegangela this very second. Cooking this for the first time was a revelation for us and it's now got a place in our regular rotation of meals. We particularly like how amenable it is to substitutions because variety is the spice of life. Feel free to serve it with rice, quinoa, cous cous, or leave it by itself.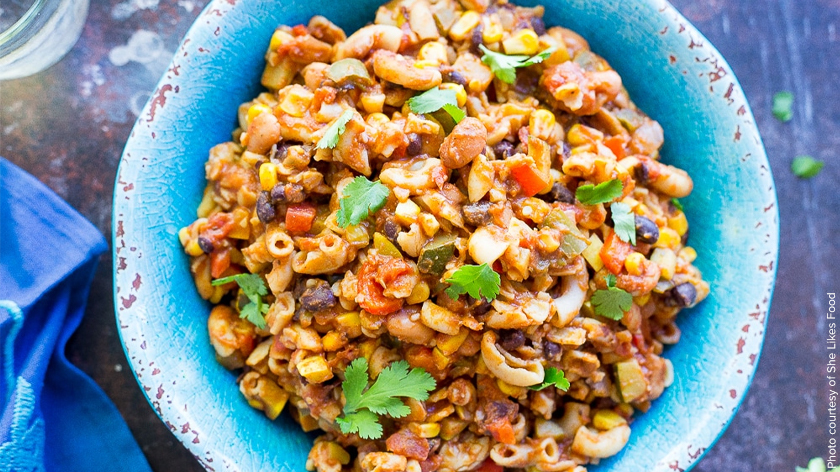 Mac n cheese is one of our favourite things to make. It's often the perfect side and always a hit at a BBQ (when we're allowed to have those again). But this version from She Likes Food loads a simple mac n cheese with some delicious veggies and beans and adds a bit of chilli powder for a nice zing. We like to up the ante by adding some chipotles in adobo sauce because we love the way the smokey spiciness pairs with the cheesy goodness.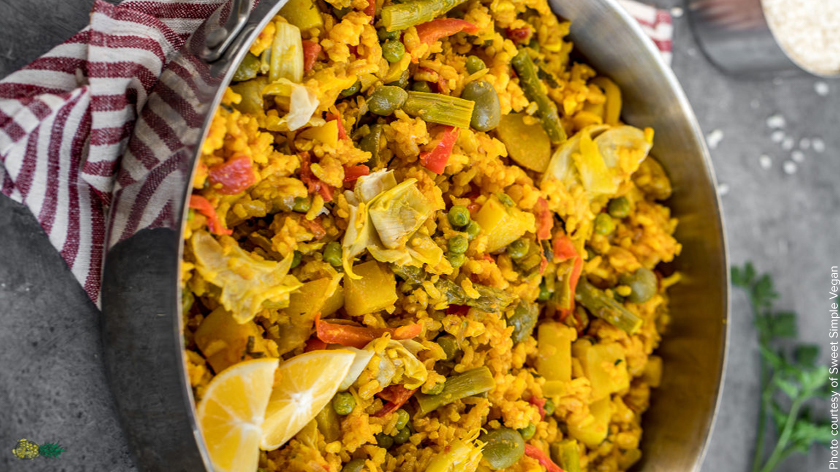 Okay so maybe this is more a one-pan dish rather than a one-pot dish, but the important part here is 'one'! Paella is the perfect centrepiece to a meal, and with a few small presentation tweaks can look spectacular. We don't always put the potatoes in (the rice is carby enough for us so they're a sometimes ingredient here) but the recipe from Sweet Simple Vegan is pretty great.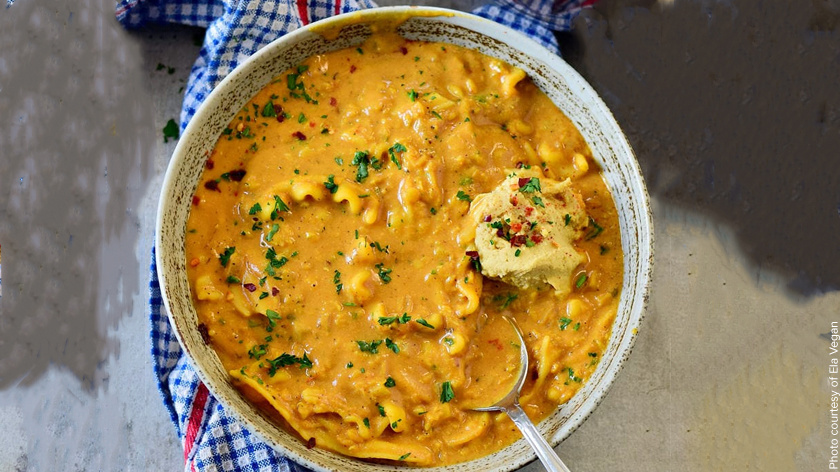 Weird or wonderful? How about weird AND wonderful! Not sure if you want the comfort of soup or the comfort of lasagne? Why not both! This recipe from Ela Vegan both looks and tastes amazing, and — bonus — it has red lentils (the best lentils, like we mentioned). We generally leave the vegan ricotta out because the soup is easily enough by itself.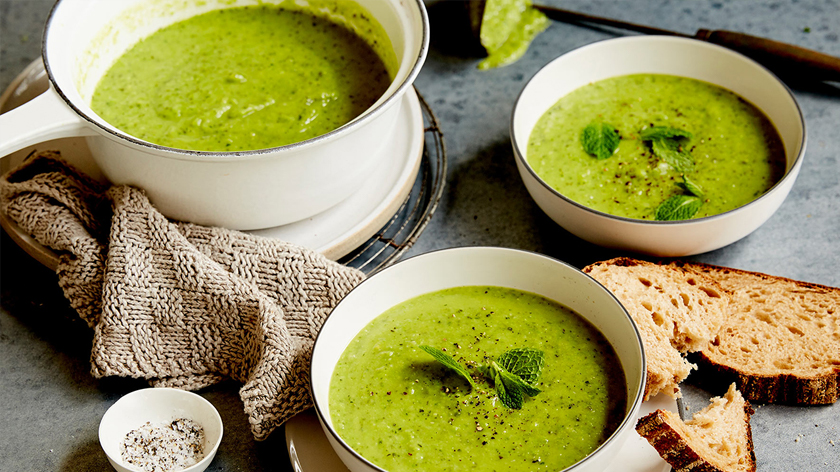 The flavour of this green pea and zucchini soup from VegKit.com is amazing and amazingly simple. The lemon rind and mint mix so well together, the potato gives it substance, and the zucchini and peas connect the whole thing together perfectly. Sometimes if we're extra lazy we won't even blend it at the end (please don't tell anyone). Eating this with a toasted sourdough is a must.
Looking for more recipe inspiration? Check out VegKit.com.