PUBLISHED ON: 5 January 2018
1. A media storm in ROMANIA
We could not have predicted the media storm that would erupt after we revealed to a packed room of journalists in Bucharest the terrible fate of Romanian calves and sheep exported for their meat. Dozens of news headlines condemned the animal suffering inherent to the global live export trade. And politicians took notice. Already inundated with appeals from the public to end the cruel trade, government officials have finally recognised live export as an issue of significant concern.
After three years of investigating and exposing the treatment of Romanian animals in Egypt and the Middle East, this is a turning point in our campaign to end live export from Europe's biggest exporting nation.
Animals International's EU Director, Gabriel Paun, hosting a media conference in Bucharest, Romania.
2. GERMANY denounces live export
When our investigators documented the desperate struggle of a frightened German bull in Egypt — bleeding from stab wounds to his face and legs — it was cruelty all too familiar. Brutality that has become synonymous with live export. To the German people who were witnessing these horrors for the very first time, his suffering united the country.
Our investigations and those of our colleagues at Animal Welfare Foundation and Eyes on Animals featured on Germany's most prestigious current affairs program, ZDF's 37 Degrees. And the response from industry and government was resolute and unprecedented. Farming associations and major political parties in Germany are now calling for an end to live animal export — setting a significant and compassionate example for other countries in Europe to follow.
Animals International's investigations featured on Germany's major current affairs program, ZDF's 37 Degrees.
3. Powerful alliances in BRAZIL
New alliances are creating new opportunities in Brazil, a major exporter of live cattle to Egypt and Lebanon. The suffering of these animals is extreme, starting with a gruelling 30 day sea voyage and ending in unspeakable cruelty thousands of kilometres from home.
We've presented compelling evidence gathered by our investigators to Brazilian politicians, industry officials, vets and media. For many, it's a first insight into the brutal reality of live export for Brazil's animals. A public inquiry will be held, legislation to ban live export is to be drafted, vets and vet students are being educated and beginning to speak out against the trade, and the meat processing union has just publicly announced its opposition to live export.
Working with our colleagues in Brazil — Forum Animal and Mercy for Animals — our goal is to create powerful professional allies who can counter the influence of live exporters and inch us closer to the day no animal is condemned to the horrors of live export.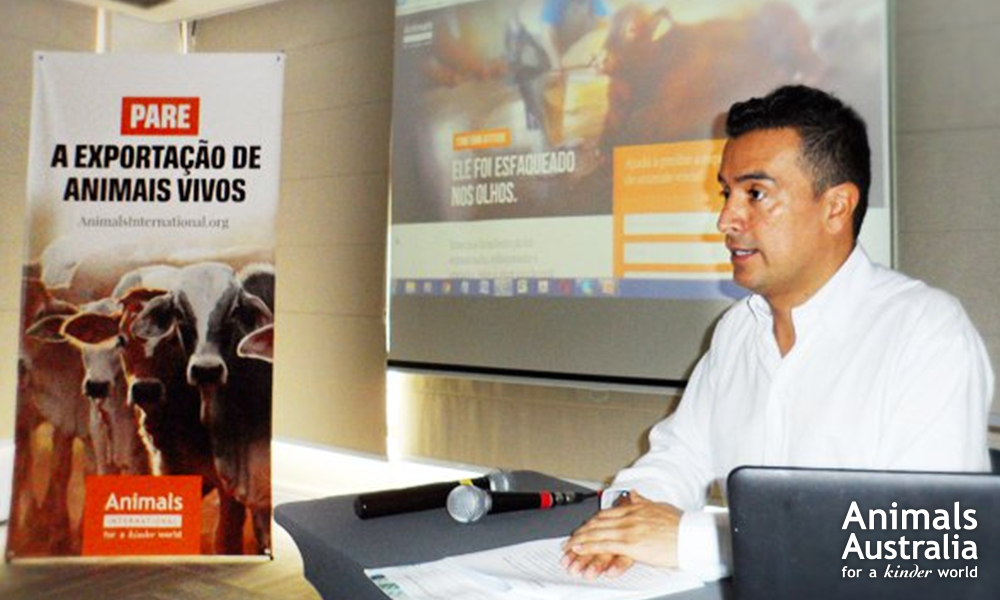 Animals International's Latin American Director, Luis Sarmiento, hosting a media conference in São Paulo, Brazil.
4. Sheep saved in KUWAIT
Kuwait's notoriously cruel livestock market has consistently been the scene of extreme abuse and suffering during the annual 'Festival of Sacrifice'. Distressed sheep stuffed in car boots in 50 degree heat. Frightened animals dragged into makeshift slaughter rooms to have their throats cut. Year on year, the live export industry would abandon animals to extreme abuse at this site. But we refused to give up on these animals.
After years of relentless investigations and 10 damning legal complaints, in 2017, where once we would have seen chaos and cruelty — there were instead empty pens. For the first time in over a decade, terrified Aussie sheep weren't tied up, abused, or killed at this notorious market. The live export industry has been reined in because exporters know our investigators are on the ground, watching their every movement.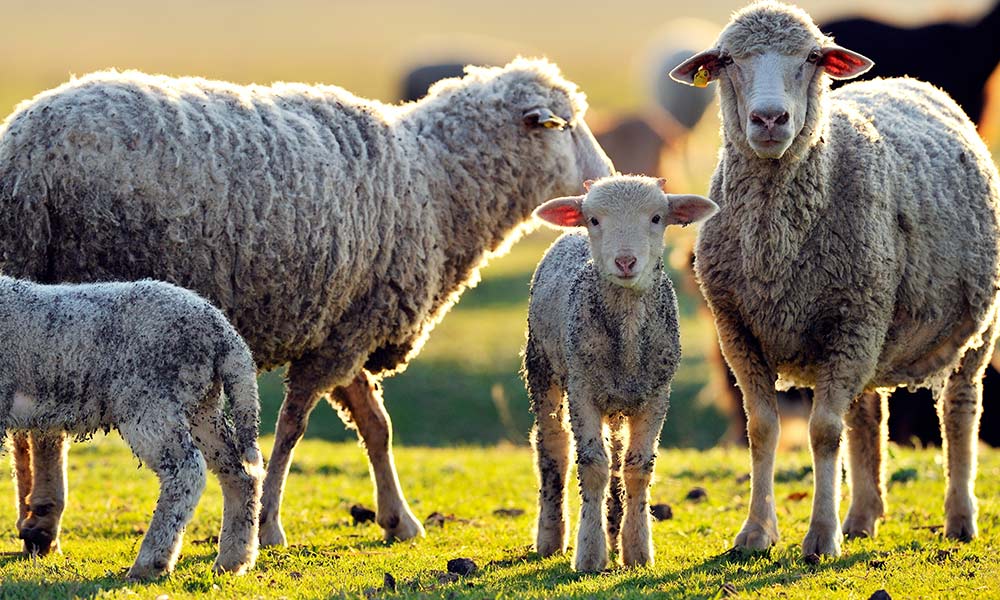 5. Millions unite for animals WORLDWIDE
Whether they are from Australia, Brazil or Germany, the suffering of animals in the live export trade has inspired a global wave of compassion as caring people speak out on their behalf. To date, some 177,000 people (and counting!) from 157 countries have signed our global petition to end live export.
You can add your voice!
In Europe alone, a petition more than 1 million signatures strong was presented to the European parliament calling on authorities to end the stressful long distance transport of animals - within and from the continent.
And many more individuals are taking matters into their own hands after witnessing the needless suffering of animals transported around the world just for their 'meat'. Every day, thousands of people — from China to Romania — are flocking to our international 'WhyVeg' websites, keen for tips on how to help reduce the demand for meat that is fuelling this industry.
Help support our investigations
Right now, we are planning our next strategic live export campaign. Any support you can offer to assist our investigators as they gear up to head back into the field will help ensure we can continue this vital work for the animals.