PUBLISHED ON: 19 June 2017
More than 16,000 Aussies fly to Bali every week! We often lead such busy, stressful lives, that it's easy to see why so many people are jetting off to sunny Bali to relax and refresh. But did you know that Bali is also the perfect place to treat your body to the benefits of eating plant-based food? Bali boasts more than 100 restaurants with delicious plant-based meals on the menu — making it the ideal destination for both a healthy body and a stress-free mind :)
So where to begin? We've picked some of most mouthwatering food joints to put on the itinerary for your next Bali adventure. And the best news is that there's tons more listed on Happy Cow so wherever you're staying, good veg food is close by ...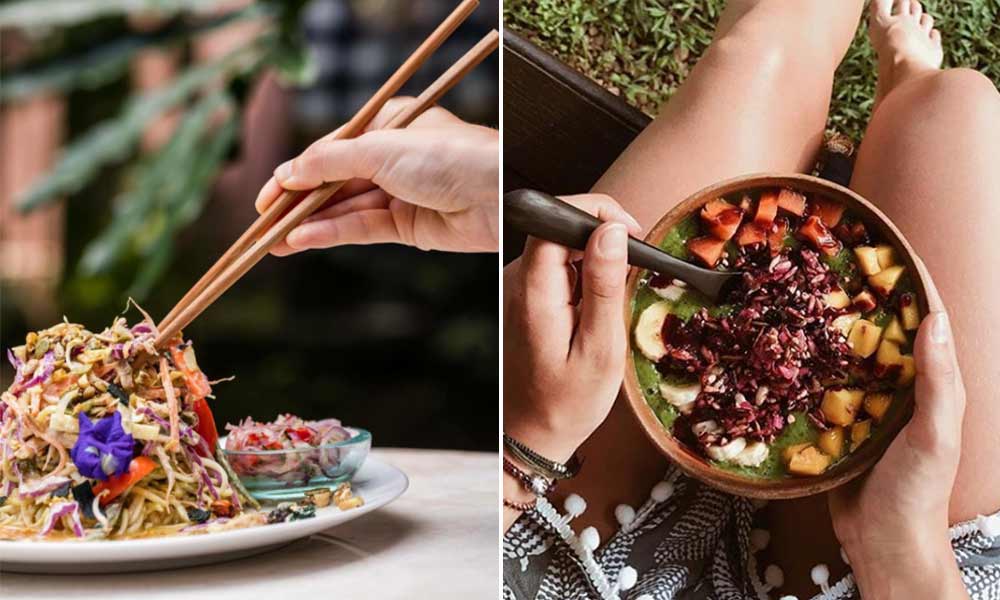 Super smoothies, pressed juices, all day breakfast, raw pad thai and big bowls of healthy, delicious goodness ... what more do you need to power you through your day of exploring Ubud (or lazing by the water)? Sayuri Healing Food also holds raw cooking classes and yoga :)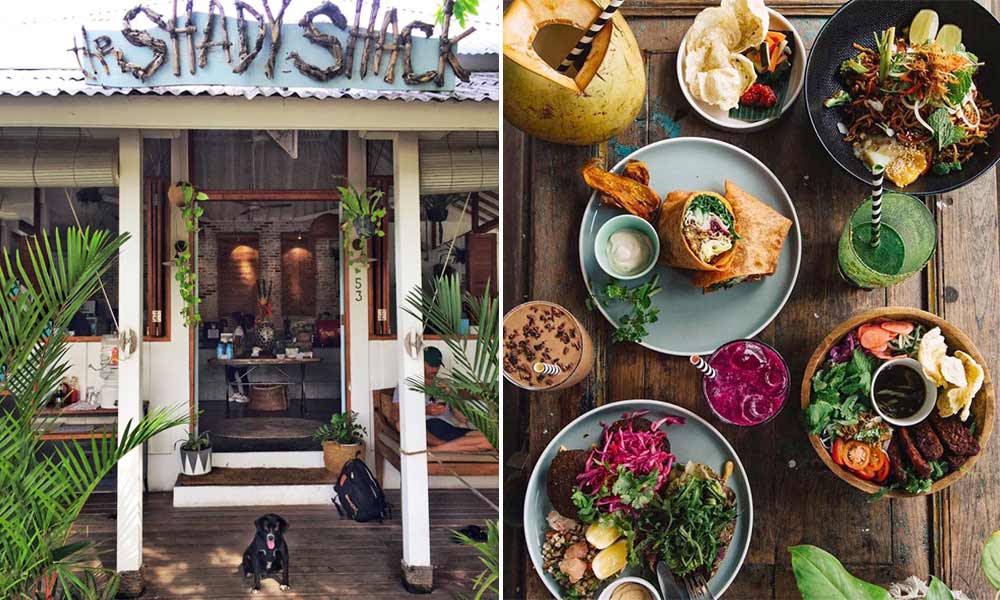 The Shady Shack are serving up tasty food that's good for you, plus chilled out Bali vibes, just a short walk from Echo Beach.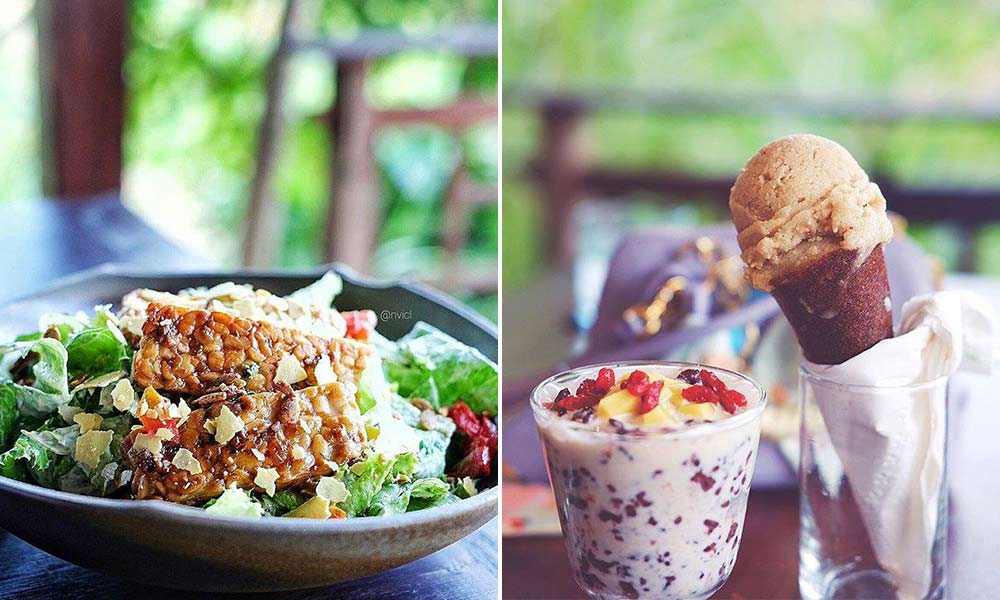 Raw lasagne, tempeh ceasar and home-made vegan icecream are just some of the delights you can enjoy at Moksa Ubud. The menu offers creative plant-based dishes for breakfast, lunch and dinner, with a huge range of raw and gluten-free options.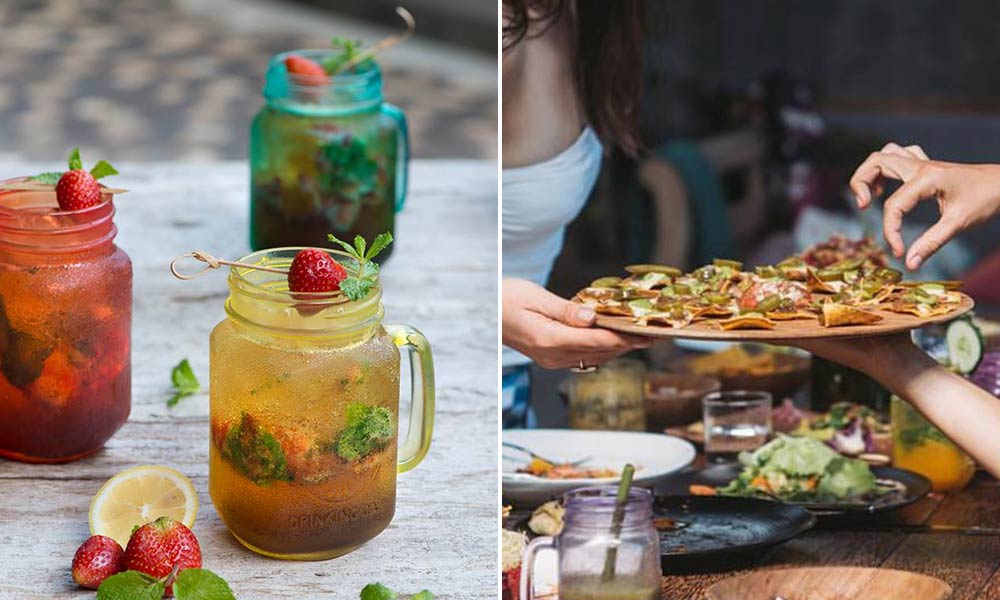 La Pacha Mama is Bali's first all-natural plant-based Mexican restaurant! Menu highlights include buffalo cauliflower wings, jackfruit burritos, Mexigoreng (intrigued?) and, for those who can't decide, an epic sharing platter with the best of everything to try. You'll be treated to live music several nights a week in the huge beer garden, which is also home to a life-sized plastic horse named Jorge.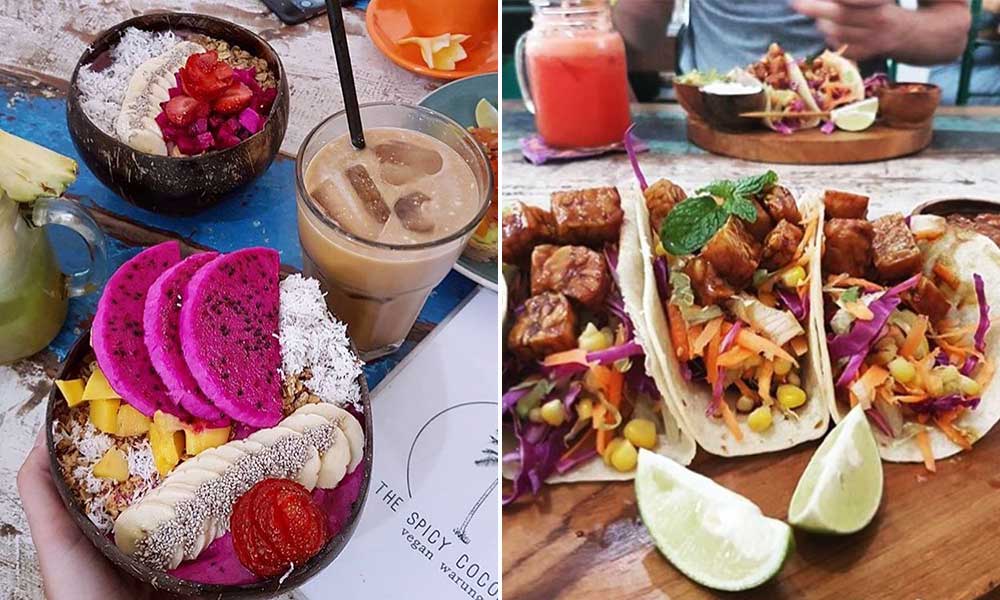 The Spicy Coconut's mantra pretty much says it all:
Goodness for your body, taste buds and all living creatures.The Spicy Coconut
And with an extensive breakfast and lunch menu full of healthy, delicious and animal-free food, they're certainly living up to it!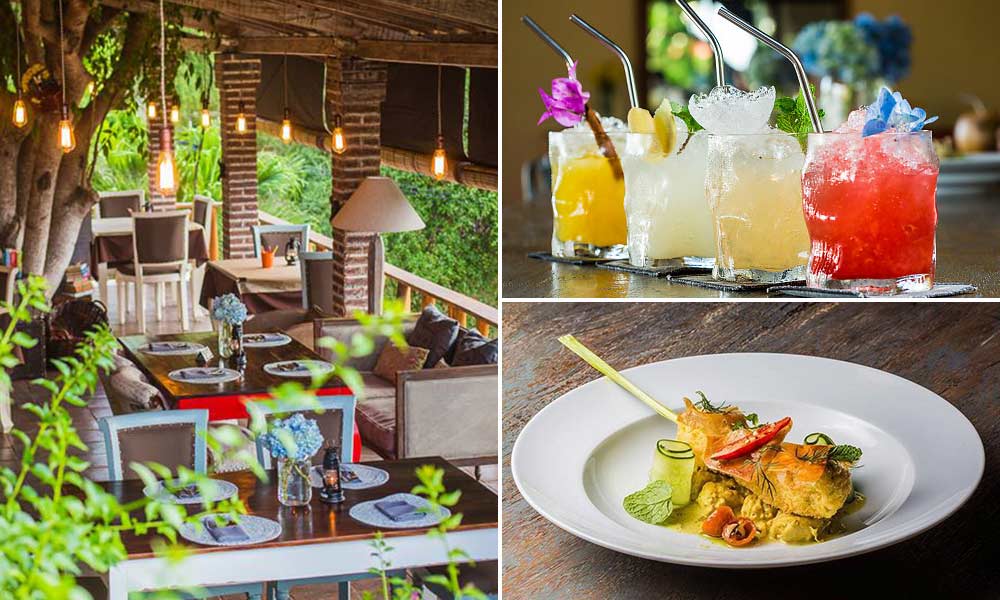 Think enchanting tree-house decor with an open terrace and sunset views, serving exceptional cocktails and clever and carefully-presented food. Saffron Vegetarian Fusion caters to vegetarians, vegans, romantics and everyone in between.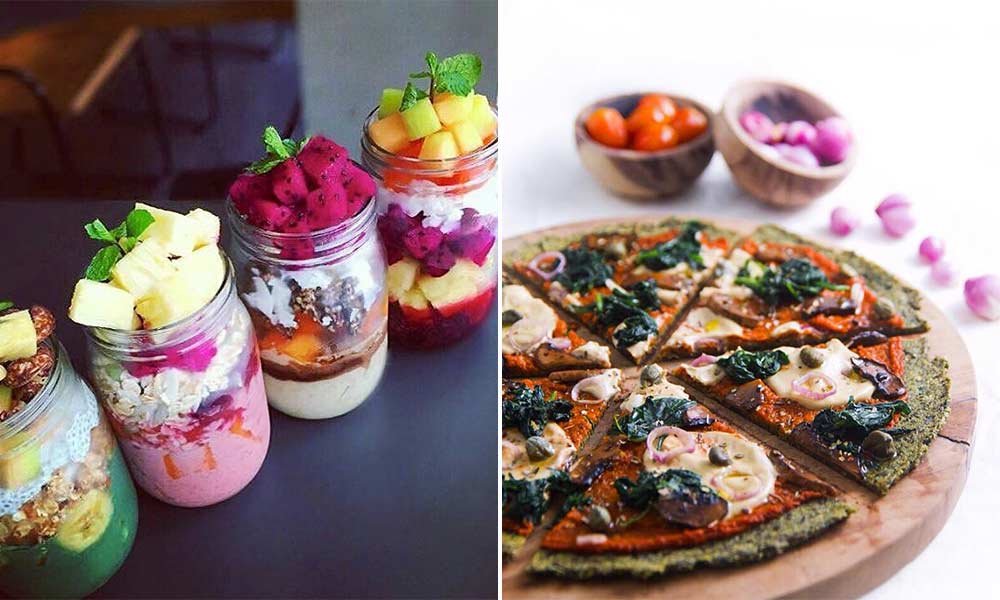 Passionate about healthy, raw, vegan food, Alchemy offer a colourful and flavoursome selection of food including - yep, raw (aka guilt-free) pizza! You'll have to try it to believe it.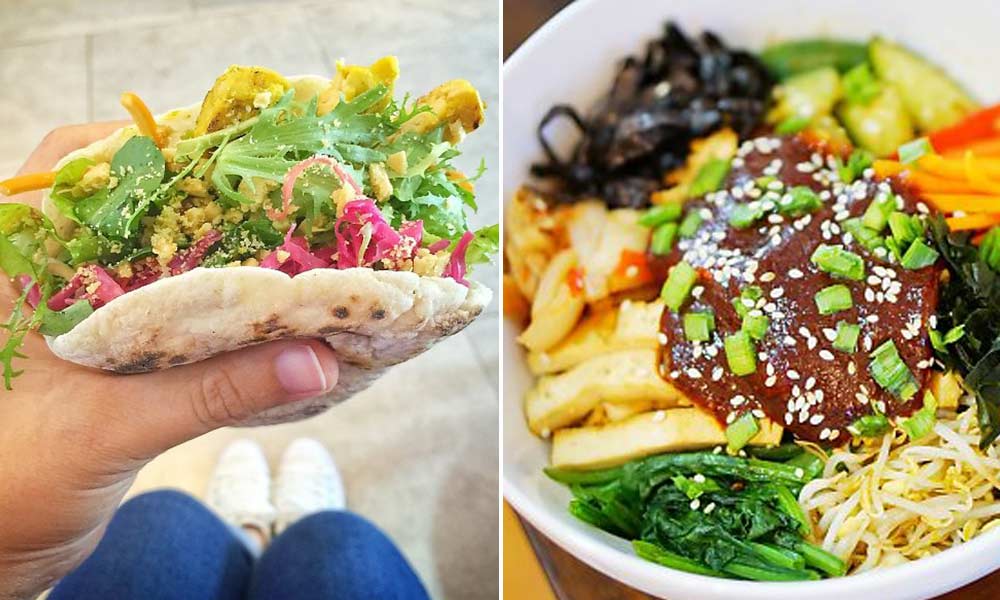 Bodhi Leaf Eatery specialises in Indonesian and Asian-inspired veggie food with a focus on fresh, local, organic and (mostly) gluten-free ingredients.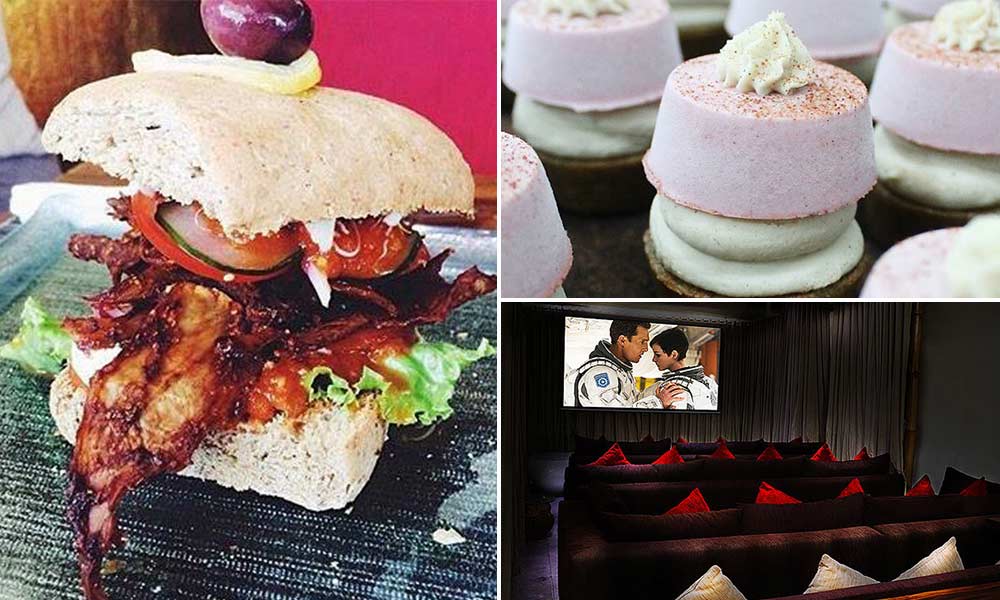 Imagine delicious vegetarian fine dining, in a cute theatre in the heart of Seminyak ... you needn't imagine because Divine Earth offers exactly that. Enjoy fresh plant-based comfort foods such as lasagne, tacos, satay tempeh and the smoked coconut 'BLT' pictured above, plus an impressive range of animal-friendly desserts, in the restaurant or in the theatre.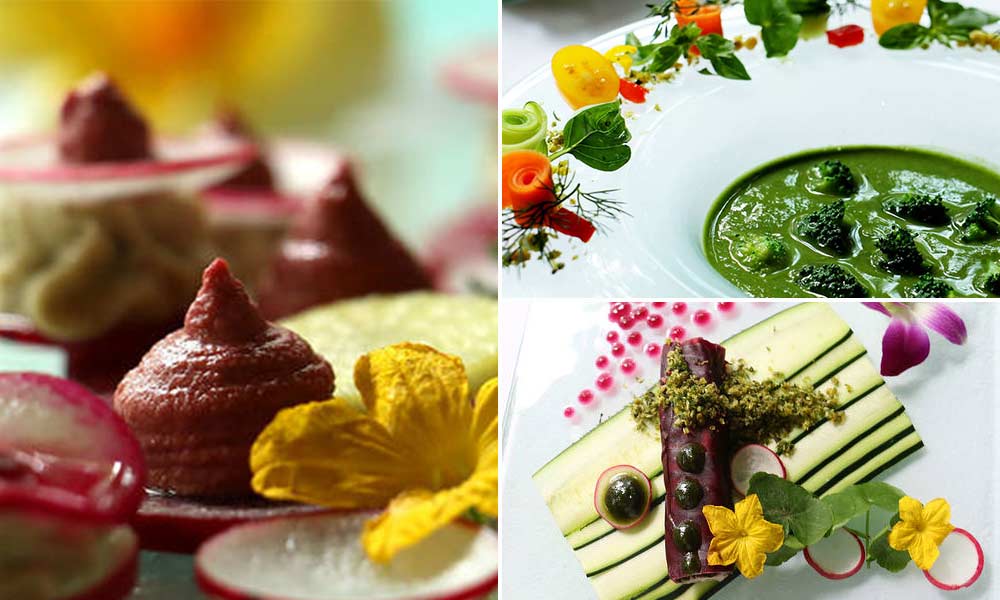 Located on level 1 of Ubud's Taksu Spa, Fresh is a raw, vegan restaurant specialising in artfully created and beautifully presented dishes. Chef Arif Springs is passionate about showing people how easy it can be to enjoy a healthier diet with fresh plant-based ingredients.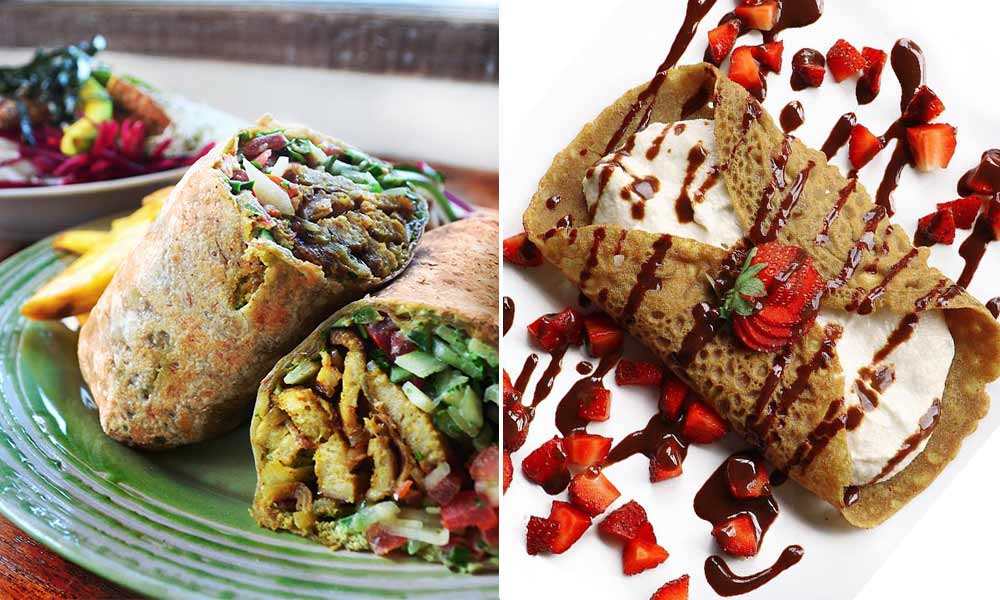 Where to begin with this place ... a market, cinema and restaurant in two locations, with a 16 page menu of tasty, organic food from the earth. From dragon bowls to spaghetti and 'meatballs', whatever you're in the mood for, you'll leave the Earth Cafe well and truly satisfied. (Psst! They also deliver.)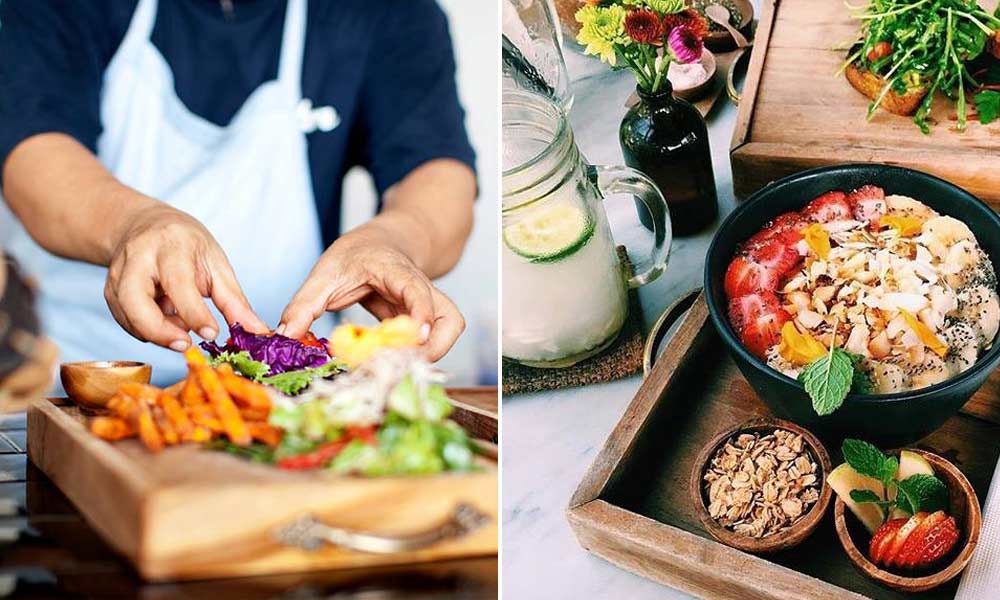 Peloton Supershop is a western-style cafe and bike shop, serving plant-based favourites including burgers, jackfruit tacos, smoothie bowls, pancakes and more. Plus good coffee, of course.
And everywhere else ...
On top of all of these incredible restaurants specialising in veg food, it's super easy to eat meat-free wherever you are in Bali. Most street or beach vendors will happily cook up a vegetable nasi goreng or mi goreng (hold the egg) and vegetarian nasi campur (rice with a small portion of several different dishes) is a common menu item across Indonesia.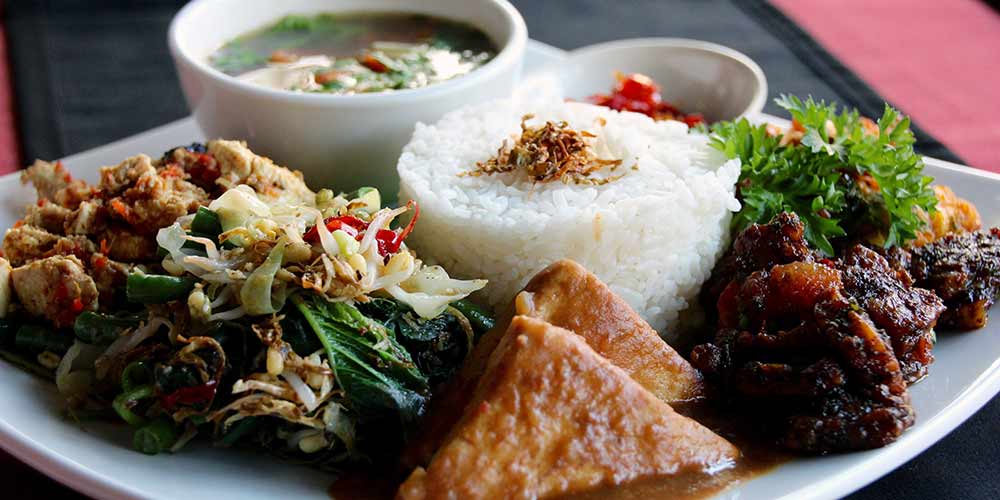 Happy Cow
Whether it be Bali or anywhere else in the world, the Happy Cow website or app can help you find tasty, veg-friendly food next time you travel — not to mention all the great options right here in Aus. (We've got no affiliations with Happy Cow, we just like them a lot.)